Sewmark Sewing Machines
Your source for Sewing Machines, Cutting Tables, Irons, Dress Forms, Mannequins, and more.
---
Juki MO734DE 432 Thread Overlock Serger Machine MO-734DE, Looper & Needle Threaders, Lay-In Tensions
For Home Use



Best 4-3-2 thread serger like Bernina 1150MDA, auto needle threaders, lay-in thread tensions, auto looper threading, built-in rolled hem, differential feed & adjustable stitch

Call for Availability and Pricing
---

Cut/Sew/Finish in one operation 
Lay-in type thread tension slots 
Color-coded threading 
Automatic looper threading 
Slit-type molder looper threading paths 
Adjustable Stitch length 
Adjustable differential feed (external) 
Adjustable lower knife 
Retractable upper knife 
Automatic rolled hemming 
No need to change needle plate 
Automatic needle threader 
2/3 Thread Coversion Cap 
Wide Overedge Width (5-9 mm) 
Higher presser foot lift 
Sewing light 
Micro saftey switch 
15 overlock stitch variations 
Waste bin 
No coverstitches on this model, only on the MO735 

* Like Bernina 1150MDA with swing out foot. (snap on off feet are just as good for threading). Swing out foot causes handwheel to be locked in place.

None

Needle Set 130/705H (Schmetz) 
Small Screwdriver 
Tweezers 
Upper Looper Converter 
Brush/Needle Inserter 
Electronic Foot Control 
Oiler 
Nets 
Lower Knife 
Spool Caps 
Accessory Bag 
Dust Cover 
Large Screwdriver 
Bulb Holder 
Waste Collector 
Instruction Manual 
Parts Manual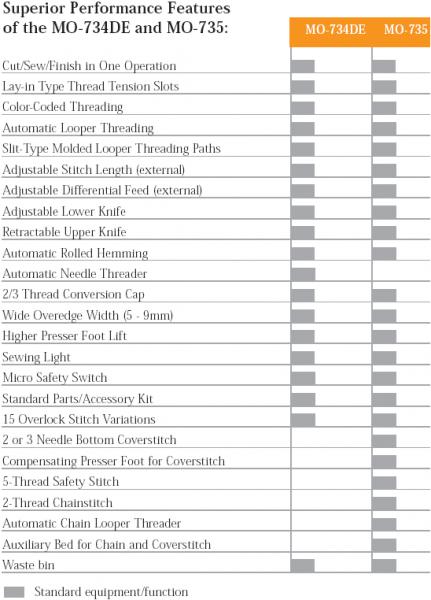 ---







© 2015 Sewmark Sewing Machine