Sewmark Sewing Machines
Your source for Sewing Machines, Cutting Tables, Irons, Dress Forms, Mannequins, and more.
---
Brother DB2-B755-3 Straight LockStitch High Speed Industrial Sewing Machine S-7550A-3, 1/2"Lift, 48x20x30" SetUpPower Stand 5500SPM AutoOil
For Industrial Use



See Below

Call for Availability and Pricing
---

Table, Stand and Motor shown is made in Japan, and not available in USA. Our power stands are different than the one shown. See under Other Images below. Brother DB2-B755-3 Sewing Head is the same as shown. 

Sews Up To 5500 Stitches Per Minute 
Fully Automatic Oil Bath Lubrication 
Japanese Hirose Rotary Hook System 
Feed Dog Bias Adjustment 
Includes Power Stand And 1/2 Hp Motor 
For Tailoring And Drapery Fabrics 
Straight Stitch Industrial Sewing Machine 
Japan Stand Pictured which is Not the U.S.A Stand 
Uses needles DBx1; size 14 for light fabric; 16 for heavy fabric 
Great for sewing clothes, knits, jeans, etc.


Up to 5,500 stitches per minute 
High speed, single need industrial head 
Extremely quiet and smooth operation 
Ideal lower tension can now be achieved as a result of improvements in the thread take-up, rotary hook, and feed mechanisms 
Feed dog bias adjustment measurement reduces puckering and uneven material feeding 
Perfect machine for a full-time high speed production factory 
Optional ergonomic table, stand, motor, with lockable swiveling caster wheels 


None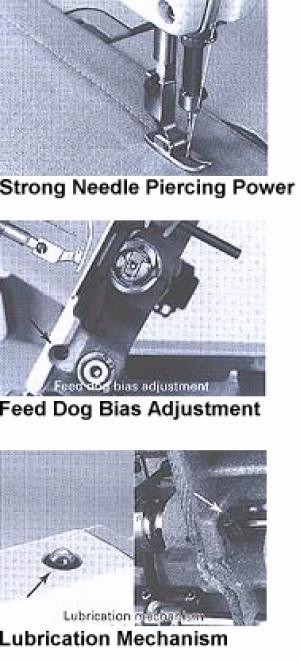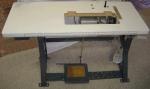 ---







© 2015 Sewmark Sewing Machine