Consew CP206R Portable Walking Foot Sewing Machine & Case, Straight Stitch Flatbed 14.5x7" 150W 1.5A 7"Arm 1/4"FootLift 6mmSL 800SPM 41Lb(SailriteLS1)
For Home Use



Use Organ Size 20 Needles system 135x17, and #69 bonded nylon/polyester thread for sewing on exterior weight upholstery fabrics. Replaces Consew CP146R Zigzag Like Reliable ZZ

Call for Availability and Pricing
---
Note: Consew Hard Case is very sturdy and up to date with extension table, but pushes out at the back where the bigger motor is, making it harder to secure the cover onto the base with side clamps. Consew's new CP206R gives you sewing power that you can take with you! Bring it right to where you need it! Single needle, drop feed, lockstitch sewing machine with horizontal oscillating hook, reverse stitch, and built-in 110 v. motor. For sewing light to heavy-weight materials such as leather, vinyl, upholstery, synthetics, canvas and various coated and laminated products. Designed for stitching such products as auto, boat, and furniture upholstery, tarpaulins, covers, sails, tents, camping trailer covers, awnings, umbrellas, tops, bags, luggage, handbags, travelware accessories, sports and camping equipment, wearing apparel, outdoor clothing, canva shoes, slippers, orthopedic appliances, etc.
Maximum speed 800 stitches per minute (dependent on material, type of operation, and thread), maximum stitch length 6mm, needle bar stroke 30mm. 1/10th h.p. 110 v., 1.5 amp motor. Bed size 14.5" x 7". Underarm space 7" x 4.5". Net weight 41 lbs. (18.6 kg). Uses system 135x17 needles.
Comes with deluxe foot control and hard plastic carrying case (20.75" x 13.5" x 10").
NEW Safety Finger Guard
Single needle drop feed walking foot lockstitch machine with horizontal oscillating hook.
Reverse stitching lever.
Built-in 110vac motor, 150 watts, 1.5 amps.
Link type thread take-up lever
For sewing light to heavy-weight materials such as leather,vinyl,upholstery,synthetics,canvas and various coated and laminated products.
High lift walking foot with 1/4" sewing clearance underneath the foot Sews Up To 1/4" Compressed Fabric
4 stitches per inch maximum stitch length
Up To 800 Stitches Per Minute speed
Dual Belts And Pulleys
Cleated posi-traction belts combine with new geared hand wheel pulley, geared reduction pulley and geared motor pulley to eliminate slipping
Special heavy duty motor attached up to 150 watts, 1.5 amps, twice as much as home sewing machines
Top And Bottom Dual Feed
Spring loaded reverse
Uses 16 class welt foot foot
Fabric Presser Foot Pressure Adjustment
All-Metal Construction
Portable Walking Foot Sewing Machine
Fits regular portable case or cabinets
Uses standard upholstery needles: 135x17, size 22, 20, 18, etc.
For sewing medium to heavy weight fabrics that are difficult to feed Elastic and other stretch materials, plus canvas, nylon, vinyl, leather, synthetics, and similar materials
For stitching such products as boat and truck covers, tents, awnings, sails, parachutes, tarpaulins, wet suits, leather, shoes, boots and similar products
Speed, Max.: 800 SPM
Stitch Length, Max.: 6mm
Needle Bar Stroke: 30mm
Needle: DP x 17,135x17 #18-23
Bed Size: 14 1/2" x 7"
Underarm Space: 7" x 4 1/2"
Net Weight: 41 lbs.
Presser foot lift: By hand 8 mm
Needle size: 135 x 17 #9-#22
Work space: 6.5" Arm Space (needle to neck)
Bed size: 14.5" x 7" (370 mm)
Hook type: Oscillating shuttle
Lubrication: Manual
NEW Safety Needle Guard
Accessory Case, Instruction Manual, Screwdriver, Oil, Commercial Thread Stand, Variable Foot Speed Control, Extra Bobbins, Extra Needles, Plastic Machine Cover.
Extra Size 22 Needles
Extra Class 15 Metal Bobbins
Oil
Instruction manual
Screw driver
Deluxe Foot Control
Hard Carrying Case 20.75" x 13.5" x 10"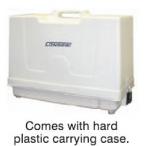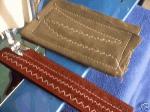 ---







© 2015 Sewmark Sewing Machine