Reliable Canada S330 Empressa Steam Ironing Board Press 25x10" Surface, 330°F, 1350W, Digital Temperature Control, Safety Lock & Alarm, Auto Shut Off, 22 Lb*



See Below

Call for Availability and Pricing
---
EMPRESSA - S330 - The revolutionary digital S330 will change the way you do your ironing. Imagine pressing your clothes without all the work!
7 x larger pressing area than an iron! The pressing surface on the S330 is over 7 times larger than most hand held irons. Pressing with the S330 can reduce ironing time by up to 50%.
Perfect for the dressmaker in the family.
For dressmaker's, you can even use the S330 as a mini-fusing press. Its even heat and quick burst of steam is great for setting fusing on collars cuffs, jacket fronts etc.
Features and performance:
Standard features include a powerful burst setting for stubborn wrinkles, digital temperature control, safety alarm with auto shut-off, and of course, our trusted reputation for building quality, long lasting equipment.
New updated design
Digital temperature control
25" x 10" pressing surface
7 x large pressing surface than regular iron
Safety alarm and auto shut-off
Powerful bursts of steam
Childproof safety lock
Hi-Tec woven press cover with pad
Accessory kit - pressing cushion, spray and water bottle

Model: Empressa S330 
Electrical: 110V 
Element: 1350W 
Pressing surface: 25" x 10" 
Maximum temperature: 330°F 
Water tank: 300ml 
Temperature control: Digital control 
Automatic shut-off: Standard 
Automatic wake-up: Standard 
Electrical approval: UL Listed 
Weight: 21.5 lbs 
Shipping dimensions: 10" x 27" x 22" 
Shipping weight: 25 lbs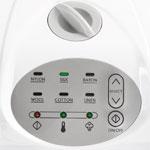 ---







© 2015 Sewmark Sewing Machine